I'm a pretty frugal person and I don't like to spend a ton of money on hair and beauty products. However, if I hear that an expensive product works very well then I'll invest and buy it. When I don't want to get all jazzed up and fancy, but I still want to look presentable , these top 5 products never fail me:
I absolutely LOVE this product! I've been 2 years natural since October 2014 (Happy
naturalversary to me!) and 3 years post-relaxer since Jan 2014. My hair is extremely thick with a mixture of wavy and kinky curl patterns. So, I'm like a 3C/4a hair texture if you follow that. This edge control has never let me down and it's affordable. I always but it from  Sally's Beauty Supply and it's around $5 and you get a few more cents off with your Beauty Club Card. It lays my edges like nobody's business! Sometimes it can leave a white residue if you put too much, but I always recommend washing/co-washing your edges at least once a week to prevent build up.
2. Beauty Rush Lip Gloss
Honestly, there is not one Beauty Rush Lip Gloss I don't like from Victoria Secret lol I guess I would have to say my favorite is Bubble It Up (mine is faded so, I don't have the exact picture). But, it looks like the cotton candy color you get with your fill or manicure. Not too mention the don't have a bad taste when you drink or eat something and lick your lips. These are also extremely affordable at $5 and are usually located near the register.
3. Maybelline: Volume Express, The Falsies Mascara
My little sister actually turned me onto this product 🙂 I'm not really into wearing false eyelashes, but maybe that's because I haven't found the right length or tried the individual lashes, so I absolutely love that this mascara gives the impression my eyelashes longer. It's affordable it's $5-$6 dollars depending on where you go. Most of the time, I get mine from Target and use my RED card to get 5% cash back, but you can also buy this from any beauty or drug store.
4. Clinique Stay-Matte Sheer Pressed Powder "Honey"
Although, I very rarely break out, my skin is VERY, VERY sensitive. This is the only press powder that I trust on my skin. I once got my make-up done for a friend's birthday, using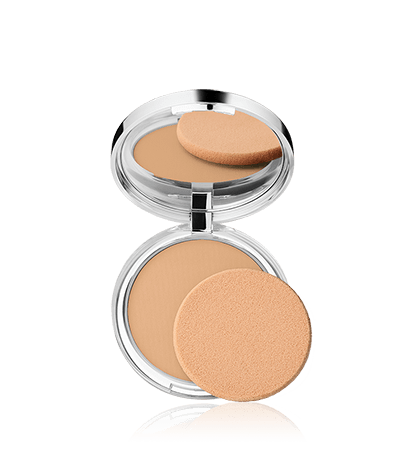 products from another very well-known make-up brand and it broke my face out for an entire week. My mom has been using Clinique for well over 20 years and I love them. To my knowledge Clinique is only in Macy's if you don't buy the products online. Every time I go in there, they are so friendly and can match my skin tone perfectly. It's $25, but for someone who doesn't wear make-up every single day, it lasts me at least a month or more.
I was tired of wearing just pressed powder, because I felt like it just wore off (which it does beca
use it has nothing to stick to duh). I never really wore foundation because it always felt really heavy on my skin, but I knew the powder wasn't working. So, I heard about tinted moisturizer and decided to go to Ulta to check some out. The make-up lady (idk the correct verbiage, female make-up artist I guess) showed me Smashbox.  She asked if she could test it on my face, again, as I mentioned above my skin is really sensitive so, I was skeptical. But, I let her apply it and she matched me perfectly the first time! No, breakouts whatsoever. It's a little more expensive about $40 but it was worth it. Again, I don't wear make-up everyday or apply a large amount so one tube usually lasts me months.
So there you have it! My top 5 beauty products that are a MUST and affordable!